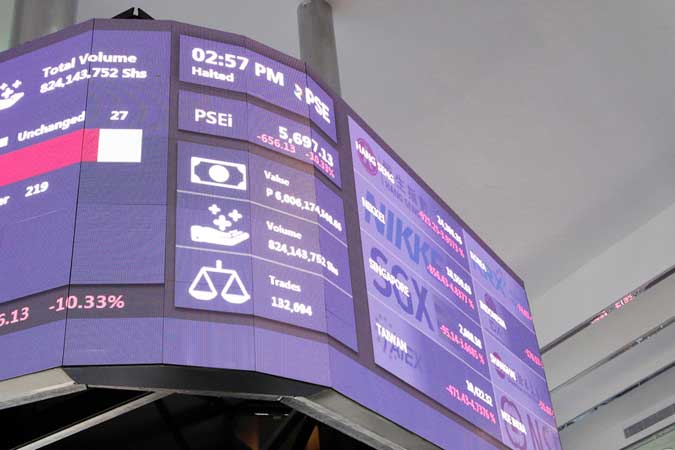 By Denise A. Valdez, Senior Reporter
PHILIPPINE SHARES are expected to see tempered gains this week after extended optimism in the past few days on the back of news on several coronavirus disease 2019 (COVID-19) vaccine candidates.
The benchmark Philippine Stock Exchange index (PSEi) jumped 172.17 points or 2.46% to end Friday's session at 7,169.79. This marked the PSEi's best finish since Feb. 24 when it closed at 7,187.44.
On a weekly basis, the index was also higher by 199.91 points or 2.87%.
However, value turnover slowed 30% to an average of P10.4 billion. Foreign investors also posted an average net selling of P596.24 million, which reversed the prior week's average net inflows of P799.12 million.
"Local shares rallied on news of successful COVID-19 vaccine trials, shrugging off early-week weakness brought about by the devastation of Typhoon Ulysses," online brokerage 2TradeAsia.com said.
"This week, we may see a pullback as investors book gains out of the market's three-week rally. The local bourse may also test its initial support, which is its 10-day exponential moving average currently at 6,922.88," Philstocks Financial, Inc. Senior Research Analyst Japhet Louis O. Tantiangco added.
The PSEi has been flirting with the 7,000 level since Nov. 10, when news on the success of Pfizer, Inc. and BioNTech SE's COVID-19 first came out. Market optimism was sustained until the past week, when Moderna, Inc. reported similarly positive results on its vaccine.
To keep the flame alive, 2TradeAsia.com said there will be two key elements that investors will look at: news on the logistical aspect of distributing the vaccines and follow-through efforts to ensure herd immunity.
"Any concerted program at the national level and plans will be appreciated by the market, and will be crucial in turning valuations higher," the brokerage said.
It noted that "the tide is turning quickly," recalling that six months ago, it seemed too ambitious to hope for a vaccine soon and a return of the PSEi to the 7,000 level.
"[W]hile some correction is due, it's not bound to cut as deep," 2TradeAsia.com said.
Aside from the vaccine watch, investors will be looking at upcoming economic figures, such as the October budget balance report and latest bank lending and money supply data.
"Primary downside risk seen for this week is a surge in COVID-19 cases here and/or offshore as this is still considered as the main impediment to economic recovery," Mr. Tantiangco said.
Philstocks put the PSEi's support within 6,922.88 to 6,600. 2TradeAsia.com put support at 7,000 and resistance between 7,200 and 7,300.