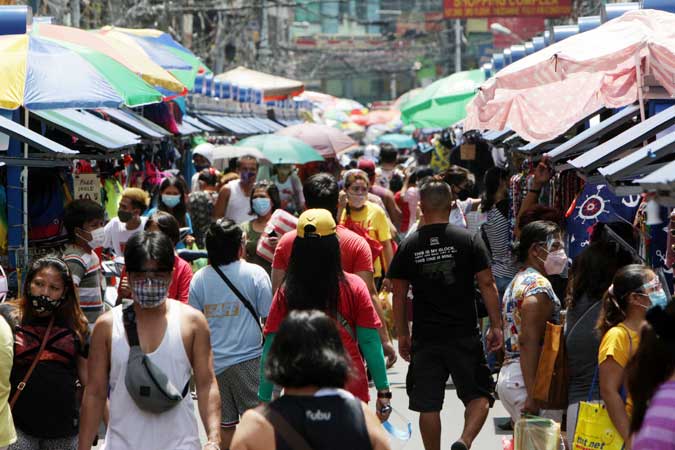 THE DEPARTMENT of Health (DoH) reported 1,799 coronavirus infections on Monday, bringing the total to 420,614.
The death toll rose by 50 to 8,173, while recoveries increased by 135 to 386,604, it said in a bulletin.
There were 25,837 active cases, 83.5% of which were mild, 7.8% did not show symptoms, 5.5% were critical, 2.9% were severe and 0.26% were moderate.
Cavite reported the highest number of new cases at 154, Rizal at 114, Quezon City at 99, Bulacan at 76 and Laguna at 67.
DoH said three duplicates had been removed from the tally, while 16 cases previously tagged as recovered were reclassified as deaths. Seven laboratories failed to submit their data on Nov. 22, it added.
Meanwhile, the agency warned the public against going to crowded places during the holiday season to avoid infection.
Health Undersecretary Maria Rosario S. Vergeire said wearing a mask or face shield would not protect a person from the virus if he is in a crowded area. "The risk is there and it's very high."
She cited photos circulating online showing people flocking to Divisoria, a commercial center in Manila.
Ms. Vergeire also said local regulators had not approved a vaccine for the coronavirus, after reports that Senator Panfilo M. Lacson and Leyte Rep. Martin G. Romualdez had been vaccinated.
"There are no approved vaccines that we can use in our country against COVID-19 (coronavirus disease 2019)," she told an online news briefing.
She also warned vaccine manufacturers, distributors and suppliers against selling drugs or vaccines that are not registered with the local Food and Drug Administration. — Vann Marlo M. Villegas