Relentless efforts of marijuana advocates over the years, both individuals and businesses, has led to the legalization of medical cannabis across many jurisdictions globally. Several studies carried out to determine the actual effects of the substance on human mind and health have helped transform its consumer base. From being a recreational drug, it can become a potential life saver in some situations.

 
Global medical cannabis industry is anticipated to reach over USD 59 billion valuation by 2025. The industry has soared on account of widespread applications in pain management, anorexia and nausea treatment. Clinicians are ready to prescribe cannabis products for cancer patients as well. Although the substance may not directly cure cancer or other diseases, patients undergoing various therapies can opt for cannabidiol (CBD)-based drugs for managing the side-effects. CBD is one of the more than hundred cannabinoids identified in marijuana plants. It is the most used ingredient in medical marijuana products, as it does not lead to a high.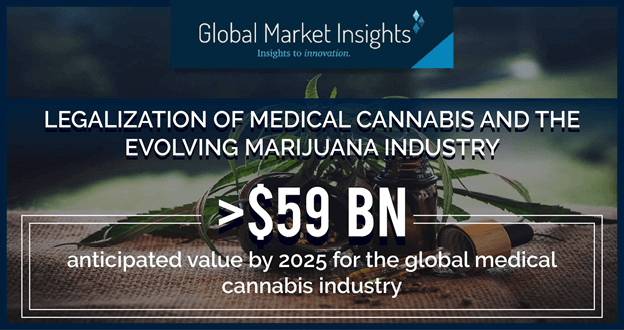 Incredible push for legal marijuana market has been observed in the U.S. and Canada, as well as some parts of Europe including Germany. These countries boast of massive healthcare research expenditure and ready adoption of new or innovative medical technology and products. According to the U.S. DOA, hemp fields in the country grew almost four times over the period of one year. By August 2019, the number had reached to more than 128,320 acres. Also, reports stated that in the first half of 2019, nearly 5 million Canadians had consumed cannabis.

 
The rapid expansion of marijuana plantations and the readiness of people to accept CBD products have fueled medical cannabis market trends. Research pertaining to the long term effects of the substances particularly in the healthcare sector are still ongoing at various institutions. These include inhalable cannabis, oral drugs and oils made from medical cannabinoids. The product is also being experimented for use in cancer treatment.  

 
Regulatory impact on medical marijuana sales
The 2018 Farm Bill in the U.S. had removed industrial hemp and its extracts, including CBD, from Schedule I of the Control Substances Act. This shifted the product's categorization away from recreational marijuana, a term usually associated with unauthorized consumption and social nuisance. Medical use of cannabis has been legal in some U.S. states for decades. Washington state permits its medicinal use since 1998.

 
As of June 2019, medical marijuana was legal, in some form or the other, across 33 U.S. states and the District of Columbia. Canada had also legalized cannabis use in the year 2017. It kicked off a momentous chain of developments in CBD-derived food, beverages and oils.

 
Enumerated below are some of the other regions where regulatory support has promised to substantially bolster legal marijuana industry forecast:

 
In November 2018, Britain passed a new law allowing patients access to medical cannabis products prescribed by clinicians on General Medical Council's (GMC) Specialist Register.

 
It was recently reported that members of the ruling CDU in Germany are readily discussing the legalization of marijuana in the country, part of the need to explore every way to safeguard people's health.

 
Victoria became the first Australian state to legalize medical cannabis treatments a few years ago. It was followed by other states including Queensland, New South Wales, South Australia, the Northern Territory, and a few others.

 
Eligible patients in Israel are able to visit authorized doctors for being issued medical cannabis licenses. They can buy the necessary medicinal products from authorized pharmacies. Oncology patients are able to avail these services through the oncology department at hospitals.

 
Evidently, legal marijuana market size will experience considerable expansion over the coming years. Key factors are favorable and  controlled regulatory frameworks that support the medicinal use of the substance.

 
Emergence of oral administration medical cannabis
Marijuana-infused food and beverages have been consumed for decades. In recent times the world has seen the development of enhanced CBD-based oral solutions for medicinal purposes. Oral medical cannabis market share will exceed the billion dollar mark in 2018 and rapid advances in product development will further boost the global demand in the coming years.

 
In November 2018, Aphria Inc. announced the launch of a cannabis infused oral strip, QuickStrip. Made in partnership with Rapid Dose Therapeutics, the product is a dissolvable medicinal marijuana strip. It enables faster and consistent cannabis dosage without the issues associated with edible products or pills. Distribution of the product has now also expanded to Germany. The company aims to ensure more access to legal marijuana for the people in Europe.

 
More recently, Tilray Inc. confirmed that it would import oral medical marijuana solutions in bulk into the U.K. The products will be sourced from its GMP-certified plant in Canada. Tilray has also partnered with IntelGenx for developing cannabis infused oral strips.

 
Consistent growth across retail stores and dispensaries
Tremendous access to e-commerce platforms enables the sale of legally available medical cannabis products like creams, oils, sprays and patches. Online segment is expected to account for more than 42% of global medical marijuana market share by 2025. It implies that the dispensaries distributional channel segment will enjoy a major share. Easier access to trusted professionals and existing consumer trends will drive product sales through this channel.

 
In March 2019, Walgreens Boots Alliance had confirmed that it would start offering CBD-based products such as creams, patches and sprays across 1,500 stores in several U.S. states. A few days before that, CVS Pharmacy had made a similar announcement. This confirms the massive traction gained by legal marijuana market in the region.

 
The retail sector is likely to remain a prime revenue source for leading medicinal CBD product suppliers. These include Tilray Inc., Medical Marijuana, Inc., Aphria, Cannabis Sativa, GW Pharmaceuticals, among others. As companies strive to access the largest medical consumer base possible, dispensaries will continue to offer immense opportunities for the introduction of these products into new markets.