The global personal protective equipment (PPE) industry, one of the most regulatory-driven spheres of its time, has only served to gain further prominence in the recent years. With the expanding pace of industrialization, the number of manufacturing procedures and protocol has increased by several proportions, on account of which personal protective equipment companies are focusing on designing unique protective wear with a view to ensure optimum safety for workers.

 
However, the last few months have witnessed a dramatic turn in the PPE industry dynamics – courtesy: the much dreaded COVID-19. Having originated in Wuhan, China, this virus has brought the entire world to a standstill, driven by nationwide lockdowns and the necessity of following social distancing. Amid this crucial scenario however, the demand for PPE has increased tremendously in order to protect frontline workers and medical staff. Not just the healthcare sector, but the polymer industry has also benefitted from the pandemic, as the demand for NBR latex gloves and similar PPE has depicted a tremendous upsurge.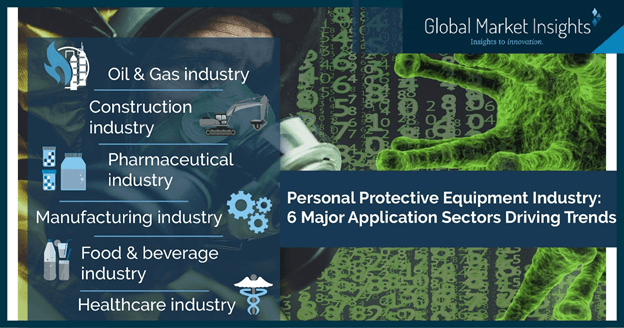 PPE as on today, is indicative of a firm line of defense against serious injuries that occur at the workplace, as per a recent personal protective equipment market analysis report. Having said that, it is essential that the credibility factor of these equipment remains unquestioned, for maintaining the safety standards. Subject to the growing technological advancements, personal protective equipment companies are experimenting with the integration of smart and connected equipment as well, in addition to considering the aspects of light-weightiness and costs.

 
While citing an instance demonstrating the increased proactiveness of personal protective equipment companies, it is prudent to state the mention of VIKING Life-Saving Equipment. The safety products manufacturer has recently acquired a contract to supply CNOOC Petroleum Europe Limited with personal protective equipment and provide safety services for around 16,000 passengers travelling to and from the company's platforms in the North Sea on an annual basis. The latest PPE market outlook revolve around workers' increasing demand for products that not only provide maximum protection but also maintain the optimal level of productivity at the worksite.

 
Below is the in-depth analysis of the myriad application-oriented trends that are fueling the growth scope of personal protective equipment industry:

 
PPE Market trends | Oil & Gas industry
Frontline professionals in oil and gas sector, have been the recipients of a huge number of lethal chemical hazards since a long time. While drillers and chain hands fall under the banner of protection guidelines systems and are liable for protective wearables, tool hands and other contractors also require to be legally protected from workplace hazards. Subject to this factor, personal protective equipment industry dynamics pertaining to the oil & gas sector have depicted quite a change in the last few years.

 
Personal protection equipment companies, for most parts, are known to manufacture flame resistant clothing, hard hats, steel toe boots, and safety glasses to be used in oil rig locations. The hydrogen sulfide gas monitoring system though, is one of the latest additions in the offshore drilling PPE safety program. This equipment is worn by all workers to monitor and detect the dangerous hydrogen sulfide gas level in the working environment. In this regard, OSHA has also mandated a PPE protocol on all U.S. based oil and gas companies, that will suitably impel the regional PPE industry size.

 
PPE market size from O&G application may cross USD 12 billion by 2024. This personal protective equipment industry analysis is sufficient enough to prove that the product demand from the oil and gas sector will continue to remain one of the foremost application-oriented trends defining the market landscape. The consistent demand for safety helmets and hard hats is also another factor that will push PPE industry. As a matter of fact, safety helmets-based industrial head protection market size from O&G applications is expected to cross a volume consumption of 70 million units by 2024.

 
Example:
North America's biggest independent fall protection equipment provider, Pure Safety Group, has recently launched the Checkmate TR3 Tripod, to provide fall protection for workers in the oil and gas industry and other confined space environments.

 
PPE Market trends | Construction industry
The ever-expanding construction sector is undeniably one of the most profitable application verticals of personal protective equipment market. PPE industry trends, specifically across the emerging economies of APAC, have been experiencing a dynamic change altogether on account of the growing construction sector. Governed by strict norms laid down by OSHA and other organizations, construction companies are now rather fastidious about making their workers wear protective equipment.

 
Personal protective equipment companies are now going the whole hog to manufacture advanced PPE such as hard hats, safety boots, protective coveralls, eyewear protection, and face shields. For most parts, it has been observed that high visibility apparel, hard hats, and safety footwear account for larger demand as opposed to face shields, air purifying respirators, and protective coveralls. Indeed, driven by the robust construction industry growth prospects across regions such as China, safety footwear has found quite a lucrative market in the APAC region. As per estimates, China industrial safety footwear market size may surpass USD 700 million by 2024 on account of the rising product demand from the construction sector.

 
Example:
Sweden-based construction group Skanska recently joined hands with Colony Hardware and Radians, one of the most successful personal protective equipment companies, in order to manufacture an entire portfolio of off-the-shelf PPE customized for women.

 
PPE Market trends | Pharmaceutical industry
The pharmaceutical industry is one of the most dynamically developed businesses that contributes heavily to world economy. Employees working in pharma companies often encounter life-threatening risks as they continuously have to deal with harmful chemical substances and drugs. This is especially true in case of cytotoxic drugs that are highly effective to treat diseases, but are toxic enough to pose a dangerous health risk to health care professionals, pharmacists, nurses, and manufacturers who handle them.

 
Protective equipment thus, helps provide security to workers from harmful biological and chemical substances including infective agents, which will impel PPE industry share from the chemical and pharma sectors. In this context, it would be prudent to mention that protective gloves are one of the most commonly used equipment to lend protection against potentially dangerous chemicals. The rapid  expansion of industrial safety gloves market size, slated to be pegged over USD 9 billion by 2024, is yet another factor providing an impetus to the proliferating PPE industry size from the pharmaceutical applications.

 
In addition, organizations such as WHO and FDA have enforced a stringent regulatory framework pertaining to sterile product manufacturing and packaging that is also is providing personal protective equipment industry a significant impetus to widen its business horizon in the pharmaceutical domain. As the regulatory norms tighten further and the awareness pertaining to workplace fatalities in pharma manufacturing companies increases, the global PPE market will have much to gain from rising product demand from the pharma sector.

 
Example:
Recently one of the better-known personal protective equipment companies, Ansell, declared the launch of the MICROFLEX MidKnight XTRA – a nitrile exam glove featuring an elongated cuff for added wrist and forearm coverage and one that enables wearers to detect the presence of hazardous powders on hands.

 
PPE Market trends | Manufacturing industry
The expanse of operations in the manufacturing sector needs no introduction, the industry is one of the most critical business arenas requiring heavy deployment of personal protective gear. Given that the manufacturing sector involves several primary and auxiliary processes for welding and metal manufacturing, workers are often exposed to an environment where they need to switch from hard hats to face shields and welding helmets to safety goggles as per the work profile.

 
For that matter, eye safety is said to hold crucial importance in the manufacturing sector, especially for welding operations. The expanding industrial eye protection market size, slated to cross USD 2.5 billion by 2024, is evidence enough to demonstrate that the overall manufacturing sector has increased its deployment of safety goggles and the like.

 
Ironically, while PPE market trends, a couple of years back, indicated a slump in the industry demand from the manufacturing sector grounded on the misconception that the usage of PPE can hamper the production efficiency, the scenario today has changed for the better. It has also been observed that high noncompliance of personal protective equipment protocol is harming a specific section of the manufacturing industry workforce, which has gained the attention of organizations such as OSHA. Presently, these authorized bodies, as is observed, have been making their regulations even more stringent, so as to ensure that manufacturing firms strictly adhere to the set norms and ensure worker safety.

 
Whether worksite accidents are a result of a flawed approach, the deep-seated attitude of high-profile production managers, or economic downturn, personal protective equipment companies must bring out solutions that would bridge the gap of safety and health without hampering productivity. The approach has led to the overall PPE market garnering substantial returns from the manufacturing sector as on today, making it one of the most sought-after application trends defining PPE industry landscape.

 
Example:
The end of Q4 2018 saw renowned firms JCB India Ltd. and Arvind Ltd. joining hands to launch smart, comfortable, and protective ready-to-wear Industrial Uniforms. Touted as the first of its kind partnership on the Indian soil to deliver co-branded protective wear for the manufacturing workforce, the deal stems from the rising significance of safe industrial uniforms in the light of OSHA's increasing regulatory compliance and the growing number of manufacturing facilities being set up in India.

 
PPE Market trends | F&B industry
The entire foundation of the F&B industry, that is strictly regulatory-driven, is based on hygiene and quality control. Product contamination does not merely affect shelf life and food quality, but also severely affects the business in terms of finance and reputation. The retail side of the industry is known to receive the direct impact of not adhering to protective standards as well.

 
In addition, workers employed in the packaging, processed food, and beverage sectors will also require protective equipment, in order to make sure that the food handles passes the highest security and hygiene standards. This industry will thus provide enormous growth opportunities for personal protective equipment companies to expand their business base.

 
Example:
One of the most renowned personal protective equipment companies, Dupont, is known to periodically enhance its range of safety garments made of DuPont™ Tyvek® and DuPont™ Tychem® that are basically designed to prevent any sort of contamination in food manufacturing processes.

 
PPE Market trends | Healthcare industry
The last few months have witnessed a meteoric rise in the demand for PPE from the healthcare domain. The much dreaded COVID-19, ever since its inception, has majorly disrupted the global medical sector. Given the way the virus spreads, the demand for protective masks, gloves, gowns, and more has witnessed an escalating upsurge not only across healthcare establishments but also from the general public. Indeed, the requirement of these PPE has risen to the point where the demand is much more than the supply.

 
In accordance, major companies that are not usually involved in PPE production, have taken it upon themselves to address the demand supply gap. Numerous firms have converted their regular production lines to manufacture masks and gloves on a very large scale so as to assist frontline workers, such as medical staff, grocery delivery employees, food delivery persons, and more. With the number of positive COVID-19 cases rising by the hour, it is speculated that the PPE industry is set to accomplish a massive percentage of its profits only from the healthcare sector in 2020.

 
Even post  eradication of the virus, it is anticipated that the medical industry will continue to require protective face masks, gowns, and gloves on a regular basis, thereby driving PPE market outlook. The demand will also add major impetus to the polymer industry, given that medical gloves are mostly made out of vinyl, nitrile, and latex. Given their exceptional properties such as barrier protection, durability, chemical resistance, puncture resistance, and more, and depending on the need of the hour, medical gloves manufactured from these materials are certain to find deployment on a global scale.

 
Example:
The 3M company has recently doubled its production of N95 face masks to combat the coronavirus. Even fashion brands have been repurposing their resources to lend support to workers fighting the pandemic. Gap, Zara, Dior, and Channel are now involved in manufacturing face masks and gloves.

 
An all-inclusive terminology in itself, personal protective equipment encompasses practically every safety gear, right from the ones worn by soldiers and firefighters to chemists and police officers. The proactive response to the changing work environment has led to the assimilation of safety gear and protective wearables, which have served to increase the overall productivity factor, thereby giving personal protective equipment market a significant push.

 
Amidst the myriad end use segments of PPE industry, the primary ones including construction, manufacturing, food, pharmaceutical, and oil and gas sectors form the backbone of the global economy. Quite overtly, it is essential that these businesses adhere to the set regulatory norms in order to ensure economic progress and consistent employment. As per a personal protective equipment market analysis, this industry is forecast to establish a strong foothold across the globe.

 
Global Market Insights, Inc. has a report titled "Personal Protective Equipment (PPE) Market Size By Product (Head [Safety Helmets & Hard Hats, Bump Caps], Eye & Face Protection [Face Protection, Eye Protection – Plano], Hearing Protection [Cap Mounted, Over the Head Type, Disposable], Protective Clothing, Respiratory Protection [SCBA – Fire Service, SCBA – Industrial, APR – Disposable, Emergency Escape Devices], Protective Footwear, Fall Protection [Personal Systems, Engineered Systems], Hand Protection), By Application (Construction, Oil & Gas, Manufacturing, Chemicals, Pharmaceutical, Food, Transportation), Industry Analysis Report, Regional Outlook (U.S., Germany, UK, France, Russia, China, India, Japan, Brazil), Application Potential, Price Trends, Competitive Market Share & Forecast, 2017 – 2024" available at https://www.gminsights.com/industry-analysis/personal-protective-equipment-PPE-market