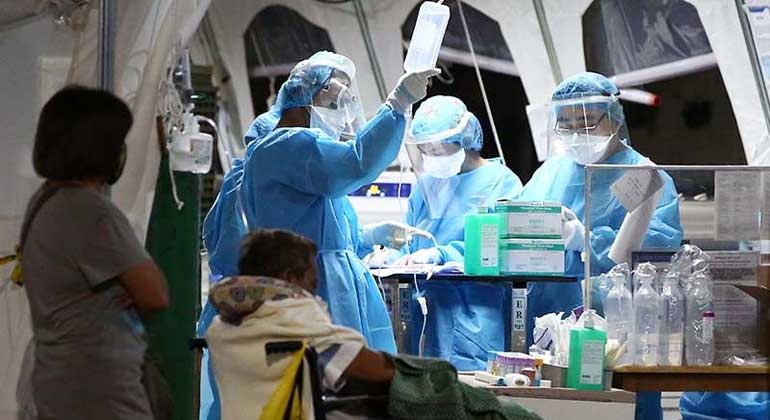 THE DEPARTMENT of Health (DoH) reported 2,415 coronavirus infections on Thursday, bringing the total to 314,079.
The death toll rose by 59 to 5,562, while recoveries increased by 771 to 254,223, it said in a bulletin.
There were 54,294 active cases, 86.6% of which were mild, 9% did not show symptoms, 1.4% were severe and 3.1% were critical.
Of the new cases, 930 came from Metro Manila, 238 from Cavite, 128 from Rizal, 123 from Laguna and 103 from Negros Occidental, the agency said.
Metro Manila had the highest number of new deaths with 26, followed by Central Visayas with seven, Western Visayas with six, the Ilocos region with five and Zamboanga Peninsula with four.
Northern Mindanao and the Calabarzon region reported three deaths each, the Bicol and Caraga regions had two each, while Central Luzon reported one death.
More than 3.5 million people have been tested for the COVID-19 (coronavirus disease 2019), DoH said.
Meanwhile, dine-in restaurants in areas under general lockdown may fully reopen and extend business hours, depending on local government rules, according to the Trade department. The agency said it would allow higher operating capacity for other businesses that have been allowed to partially run.
Local governments have the final say on how much capacity restaurants can operate, says Trade secretary Ramon M. Lopez an online news briefing on Thursday.
Restaurants had been allowed to operate at up to 50% capacity in places under a general community quarantine.
The Trade department will issue an advisory about the policy, Mr. Lopez said. Barber shops and salons may increase their capacity to as much as 75%, he told One News.
The government would try to allow more sectors to reopen and increase the capacity of those that are still operating partially, he said.
These include legal services, accounting, engineering, architectural services, management consultancy, programming and IT, and retail, he said. — Vann Marlo M. Villegas and Jenina P. Ibanez